Destination Marlborough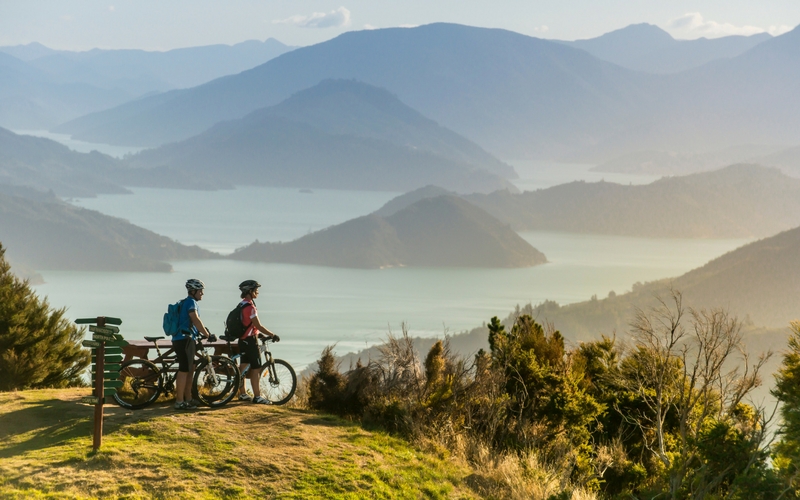 Visitors spent $387 million in Marlborough to the year end March 2016, up 7.5% on the previous year. That equates to over $1 million per day of new money into the Marlborough economy and includes months when a key access route to Marlborough (SH1) was closed.
Go to the Marlborough NZ website for more information
Destination Marlborough is a not-for-profit trust responsible for marketing Marlborough as a visitor destination. Our job is to tell the world why Marlborough is a brilliant destination to visit for a holiday, for business, or to catch up with friends and family.
The region's destination marketing activities are funded through a combination of commercial partnership funding, i-SITE revenue and Marlborough District Council General and Targeted Tourism Rates.
All activity undertaken by Destination Marlborough is focused on the following four regional priorities:
Positioning Marlborough as a compelling destination to visit
Growing visitor spend in Marlborough
Prioritising effort to smooth seasonality
Connecting local government and private sector funding to achieve a single collaborative voice
Destination Marlborough delivers an ongoing programme of trade education and influencing to increase product placement in travel brochures internationally, and improve the ability of travel agents to confidently sell the Marlborough region. To extend this work in the international markets, Destination Marlborough is part of a multi-region joint marketing initiative promoting a self-drive journey known as the Classic New Zealand Wine Trail.
Destination Marlborough attracts New Zealanders to visit and extend their stay through tactical marketing initiatives and media targeting and hosting to generate editorial. Particular emphasis is placed on stimulating travel in the spring and autumn.
Through the establishment of the Marlborough Convention Bureau collaborative marketing of the region as a conference, meeting and incentive destination is working to build visitor numbers over winter. The objective is to increasingly attract this business, provide partner programmes and pre and post conference leisure options and encourage delegates to return to the region with friends and family.
Destination Marlborough works with Port Marlborough to support cruise ship visits to the region and coordinate on-shore excursions for visitors.
Every opportunity is taken to initiate and attract international media outlets to visit Marlborough to generate editorial coverage that raises the profile of the region.
Destination Marlborough operates the i-SITE Visitor Centres in Picton and Blenheim on behalf of the region. These two centres are open every day to assist visitors with travel enquiries and bookings, both in the region and for the duration of their time in New Zealand.
Destination Marlborough produces the officially recognised Marlborough Visitor Guide, which is distributed extensively throughout New Zealand and to key travel re-sellers offshore. This is complemented by the official regional tourism website (see link below) and social media channels that direct visitors to information, products and offers from the region.
Go to the Marlborough NZ website
Marlborough businesses have access to the range of promotional and marketing partnerships created by Destination Marlborough to help profile their individual experience and market collectively with others. The Destination Marlborough team also provide tourism marketing and product development expertise and advice along with public relations and crisis communication support as a service to tourism operators in the region.
Regional promotion is vital to create the awareness and desirability of a region and grow the number of visitors who want to come to Marlborough. But visitors must first have a reason to come to a region. Regional promotion provides context, an umbrella if you like, under which individual businesses can promote their product or service. It is only when visitors have a reason or desire to come to Marlborough that they then look for accommodation, activities and transport that suits their circumstances.
Businesses who offer services or products to visitors, in addition to their own business management and marketing, have access to a range of tourism marketing opportunities facilitated and led by Destination Marlborough that help connect their products to the customer.
Local business owners/managers are encouraged to make full use of the opportunities, information and connections available through Destination Marlborough.
For full details of Destination Marlborough's annual activity plan, and ensuring you are taking full advantage of the regional marketing effort, contact the team at Destination Marlborough on email or see the Marlborough NZ website.