Air Pollutants - what are they?
Air pollutants can be divided into three main groups:
Criteria pollutants
Toxic pollutants
Biological pollutants
Criteria pollutants
Criteria air pollutants is a term used to describe air pollutants that have been regulated and are used as indicators of general air quality. The regulations or standards are based on criteria that relate to health and/or environmental effects. Sources of criteria pollutants can either be of natural origin or anthropogenic (as a result of human activity). Examples are carbon monoxide, sulphur dioxide, ozone and PM10.
Toxic pollutants
Air toxics are also known as hazardous air pollutants (HAPs) and can be present in the atmosphere as gaseous, aerosol or particulate pollutants. They include the following general categories of compounds:
Volatile and semi-volatile organic compounds
Polycyclic aromatic hydrocarbons
Heavy metals
Aldehydes
Air toxics are emitted from a variety of domestic, commercial, agricultural and industrial sources. Air toxics are generally present in the air in low concentrations, but it is their toxicity and/or persistence that make them a hazard to human, plant or animal life.
Biological pollutants
Pollen is not something that most people would associate with being an air pollutant, but for some people its presence in the air can seriously affect their day-to-day lives. There are other types of biological pollutants that can also impact on our health. These arise mainly, but not exclusively, in indoor environments and include moulds, animal and human skin, dust mites, bacteria etc.
How good is Marlborough's air quality?
Marlborough's air quality is generally very good. Crisp clear days with excellent clarity are characteristic of Marlborough.
However, some areas do suffer from poor air quality at certain times of the year.
Smoke and smog
In wintertime, smoke and smog cause problems in some of our urban centres. Outdoor burning (rural and urban) can occur at any time of the year and can give rise to thick black smoke, creating a local nuisance.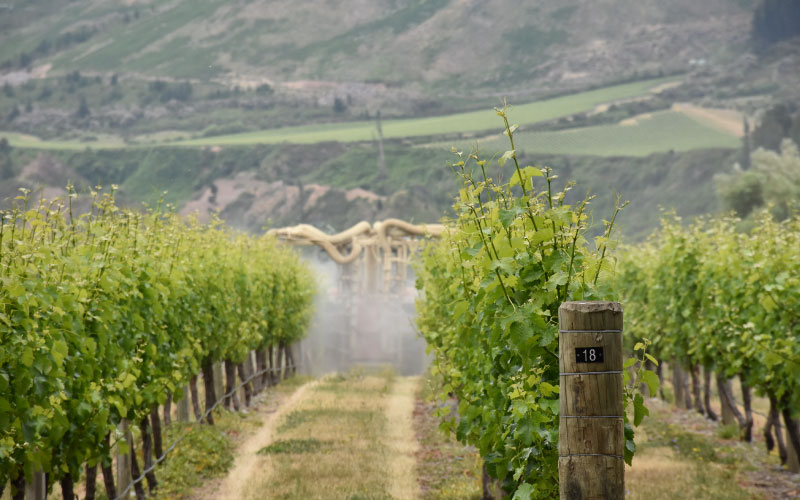 Spray drift
Marlborough's air quality can also be affected by agrichemical spray drift. The Wairau Plains are heavily cultivated. In the past vines and orchards covered the plains but in recent years viticulture has begun to dominate. The flat, open, windy plains of Marlborough and the dominance of viticulture and horticulture result in a high risk of agrichemical sprays crossing boundaries into more sensitive locations such as houses, schools and organic orchards.