Waitohi Picton temporary terminal building celebration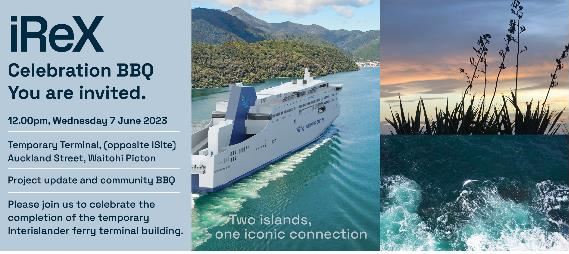 In a few weeks the new temporary terminal building for Interislander foot passengers and cyclists opens for business.
To celebrate this milestone the project team is putting on a community sausage sizzle on Wednesday 7 June between 12 noon and 1.30 pm. Be sure to mark the date in your calendar and come down to the new temporary terminal building, located across the road from the iSite, for a sneak preview and a chat with the team.
In other project news, Port Marlborough's work on building two new commercial jetties is going well. The pre-constructed jetties have now been towed via barge to their new permanent site adjacent to the 'old float plane office' on the northern side of the Edwin Fox building. Nearby in the upper carpark, another section of the Waitohi Awa Culvert is about to be uncovered. This involves lifting concrete lids to create more capacity and to make it stronger.
Temporary traffic management is also in place on Dublin Street so that work to relocate pipes can be completed. There is a mixture of two lane and one lane traffic while this work is carried out. The one-way traffic management set up will switch between north and south, depending on which side of the road is being worked on. Due to the rail level crossing these single lane routes will be only one directional. Traffic management people and detours will be in place when required.
Occasionally Dublin Street will need to fully closed for safety reasons, but disruption will be kept to a minimum and closures during busy traffic times will be avoided. Depending on some of the temporary traffic management setups, these will require closures on Broadway.
All of this work is being done in preparation for the arrival of the first of two brand new, purpose built ferries in 2025. The new hybrid diesel-electric ships produce less wake energy than the current fleet, and will reduce carbon emissions by 40 per cent.
Go to more information about the project on the iReX website
If you have any questions about the works please email the project team at info@pictonferryprecinct.co.nz or
Go to the Simcox website